Thursday, July 29, 2010
12 Week Fitness Program Review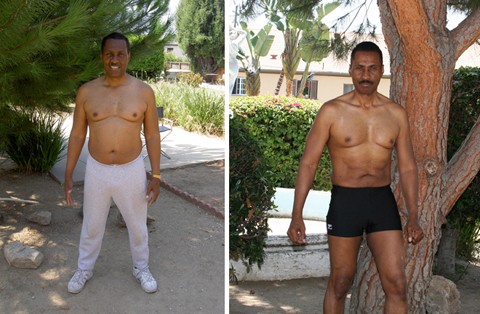 Interview With Fitness Guru Charles Prosper Creator of The 12-Week Fit Fast System
P.B. Can you give us some background about yourself?

C.P. Basically, I am your everyday guy, well-educated, working man, who at age 57 discovered something. I wasn't the guy that I was physically only 10 years ago. At 5'9' tall, I was weighing about 195 lbs. That's about 35 lbs. over my ideal weight. When I walked, my thighs were so chubby that they actually rubbed together. I was sometimes afraid to run too fast less I might cause a friction fire between my pants legs.

P.B. What got you started in fitness?

C.P. What got me started into fitness is what I like to call the "day of the van". This is what happened. My daughter, Luzemily who was about 7 years old at the time, said to me. "Daddy, I'll race you to the van." Optimistically, I said, okay, but not knowing that my mind and my body had too different agendas. She said, "Go!" And we took out racing to the parked van only about 20 feet in front of us. Before I got half way, I was huffing and puffing like the big bad wolf, totally out of breath. I said to myself, "Oh, no. Something's wrong with this picture. There is no way that I will let myself deteriorate for the sake of my daughter. For her, I must take care of myself to be around for her as long as possible and as healthy as possible. Thus, I immersed myself in a project to learn the best of anything and everything to do with health, physical fitness and longevity. I came across a book by famed bodybuilder Lee Labrada, "The Lean Body Promise" which totally opened my eyes and changed my life.

Read the rest at Interview with Fitness Guru Charles Prosper
Tuesday, July 20, 2010
Monday, July 05, 2010
Friday, July 02, 2010
Thursday, July 01, 2010